Davis Wins Career Teaching Award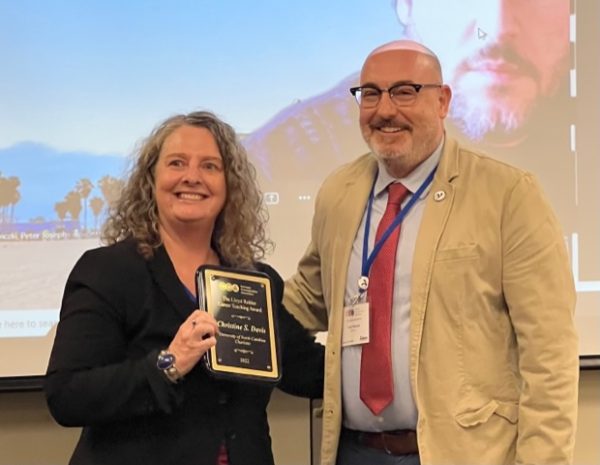 2022 Lloyd Rohler Career Teaching Award Presented by the Carolinas Communication Association
Christine Salkin Davis, Professor of Communication Studies, has been awarded the 2022 Lloyd Rohler Career Teaching Award by the Carolinas Communication Association (CCA). The award recognizes continuing excellence in teaching and mentoring.
"I'm really deeply honored to receive this award at the end of my teaching career" said Davis. "I attended my first CCA conference in 2005, my first year at UNC Charlotte. That first year, I received a research award, and to receive a teaching award in my last year is a lovely bookend to my career."
During the awards ceremony, Davis was celebrated with a standing ovation. Several students from a recent graduate class were in attendance, presenting work they developed under her guidance. "The students are at the heart of this award, without them, I couldn't be the teacher I am," shared Davis.
After an illustrious 18 year career teaching and researching at UNC Charlotte, Davis will retire at the end of fall semester, 2022. She has taught countless students in Health Communication, Research Methods, and Communication Theory courses, published extensively on health communication, and served as Graduate Program Director.
CCA promotes the study of communication in the Carolinas and surrounding region. Each year, a panel of CCA scholars selects one recipient among a pool of nominees for the prestigious Rohler Award. In September, 2022, Davis received this award during the annual CCA conference held at the University of South Carolina, Aiken.